Perfect your eye look in just a few seconds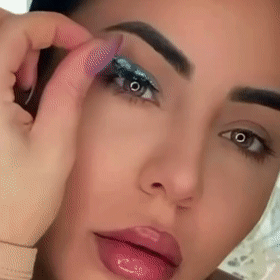 You don't need a surgeon's hand to make your eyeliner look professional. Our dazzling collection of eyeliner stickers is the perfect choice for women with high standards and limited time! Every pair has sparkling effects that highlight your eyes in the sexiest ways! Instead of spending time in front of the mirror, you can doll up in seconds by sticking them before applying your makeup! Don't let their thin look fool you, the lashes are reusable and resistant to water, you can use them anytime you wish to look lovely for a special occasion or just when you feel like it!
The reusable eyeliner stickers have7 different colorsof eyeliner stickers, and there are more options to satisfy your amazing makeup. [Waterproof & Long-lasting & Reusable] Thereusableeyeliner stickers arewaterproof and Long-lastingand cankeep theoriginal shape and color within 3-5 days. [Easy to use & remove] Our reusable eyeliner has an eye contour next to the body, so when you place them in the right place on your eyes, you can easily stick them without worrying about skewing. The high-quality cosmetic ingredients can be completely torn apart and are very comfortable when stuck to the skin without any pain.

Why LovelyLash are for you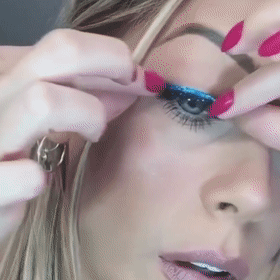 It is essential that you can easily rinse off with makeup remover, body oils, and alcohol. [Perfect for all occasions] Reusable eyeliner stickers can make you shine in Halloween, nightclubs, masquerade, carnivals, cosplay, birthday parties, photography, and other occasions. Create your own unique style. USING METHOD Here's how it works... Start with dry clean skin! 1 - You carefully just peel off the sticker 2 - Adjust it with the outer corner of your eye 3 - Stick it on your eyelid and you're good to go! If you want, add some ink liner to the inner corner to complete the style. The eyeliner stickers come in tons of different designs and styles for all types of eye shapes and ethnicities. REUSABLE PRODUCT WITH GLUE FOR EYELASHES

Beautiful in seconds- Why spend an hour in front of the mirror designing your eyes when you can make them flawless in an instant!
Effortless transformation- Tired of uneven marks and tiresome touch-ups, achieve the perfect eyeliner look by simply sticking them on your lashes!
Outshine everyone- Become the star of the party, create a glamorous cat-eyed look for yourself and repeat at any time you wish to dazzle!
LovelyLash are the ultimate choice- Our sparkling collection gives you the simplest way of making your gaze irresistible!

Package Included:
6 Pairs *beauty eyeliner stickers or 4 pair* Eyeliner and eyelash stickers or 
10 pair * Eyeliner stickers and 1 pair * False eyelashes