THE PERFECT DOUBLE SHOULDER PORTABLE TRAVEL BACKPACK 
This is a High-quality mesh material that makes it so breathable, environmentally friendly & with no pungent smell to make your pet feel free.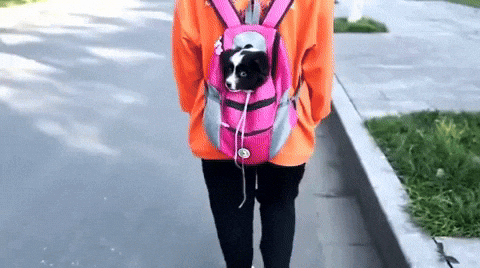 THIS PET SHOULDER BAG IS THE BEST CHOICE FOR OUTDOORS
Keep your pet by your side with comfort. Buckle inside design connects to the dog collar, preventing your loved pet from jumping out to ensure its safety.
The cozy shoulder strap can let you wear to the front, to the back, or to the side. Suitable for various kinds of puppies and cats.
The Dual extra mesh pockets can perfectly store small belongings. Free your hands to have more interactions with your pet and do other things on the go.
LIGHTWEIGHT, PORTABLE AND SAFE
This backpack carrier is lightweight and portable, and you can use it to carry your small dog or cat to go biking, hiking, camping, out walking, or meeting friends. It allows owners to have more adventures with their cute pets, and more importantly, it is also a great photo prop for taking fun photos for daily sharing.
The dog carrier backpack is designed to carry small and medium-sized dogs/cats, and we highly recommend it for pets under 16LB (large dogs may be too much of a burden for their owners). And best of all, it's safe for your fur friend.
Comfortable: The horizontal straps can share the weight of the shoulders and reduce the pressure on the shoulders. 
Two Ways to Wear: Hands-free pet carrier can be worn on the front according to your preference or on the back, with an extra buckle belt to keep the backpack stable. Make you more intimate when carrying your dog or cat, increasing the sense of security of your pet.
The head-out design ensures your pet's comfort.
The zipper and elastic band opening allow you to fit your dog into it comfortably.
The sturdy metal buckle can be fixed on your pet's collar/leash to ensure your pet's safety.