A high-quality faucet aerator is made with fine workmanship can save much water. Convenient and flexible, Just touch to turn off the faucet.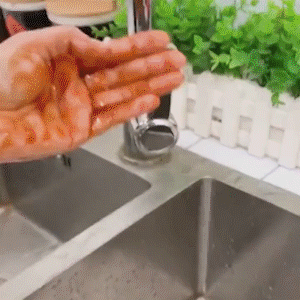 Easy to switch out the old Point-touch Water Saver with this new one. It's so nice to be able to turn on and off the water (and, yes, completely off) with just the tap of a button without having to touch the faucet handles. This product is also a great workaround for some cases of stubborn leaky faucets.
- Michael Belle
Main Features
Water-Saving Without Reduce Pressure
These sink faucet aerators mix the water and air well to create lots of bubbles and restrict the flow of water from taps without reducing water pressure. Prevent water splashing and saving water.

A New Generation of Touch Water Saver
The point-touch aerator does not switch the faucet through the traditional handle, which greatly reduces the mutual infection caused by the bacteria on the handle being touched by the hand.
⭐Anti-virus
⭐Humanized Tap Design
Made of high-quality copper materials, durable for use. Simplified design, easy to install. Fit to the kitchen, sink faucets, bathroom taps and lavatory.
Specification
Material: Copper
Package Contents: Point-touch Water Saver×1